Monday January 31, 2022 Text: Luke 1:57-80 Passages: Luke 1:57-80
Upon writing, "His name is John," Zechariah regains his voice and prophesies concerning his son's work.
Read More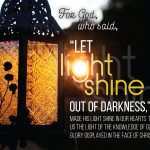 Tuesday December 24, 2019 Text: Luke 1:67-80 Speaker: Pastor Matthew Ude Festival: Advent Passages: Luke 1:67-80
What has the Lord done? He has visited, redeemed and raised up His people. Why has the Lord done this? Because of His promise and because of His mercy. What is the result of this? We are free to serve the Lord without fear.
Read More